Bournemouth University (www.bournemouth.ac.uk) and The Game and Wildlife Conservation Trust (www.gwct.org.uk) are recruiting a high calibre PhD researcher to work on a three year fully funded studentship investigating changes in the migrations of Atlantic salmon in relation to factors including climate change, with an emphasis on how changes in smolt migrations are impacting survival to spawning adults.
The study will develop flexible multistate state-space mark-recapture models to quantify and then investigate correlates of Atlantic salmon marine survival using data collected on the river Frome, Dorset UK, with the intention of generalising findings to other rivers in Europe.
The successful candidate will have a strong numerical background and some knowledge of salmonids.
Although the student will be registered at Bournemouth University, they will spend up to 2/3 of their time at the FBA River Laboratory in rural Dorset: https://www.fba.org.uk/the-river-laboratory
Deadline: 11th March 2018
Entry requirements: A 1st class honours degree and/or a relevant Master's degree with distinction or equivalent
Apply: https://www1.bournemouth.ac.uk/study/courses/phd-studentship-predicting-implications-changes-migration-phenology-conservation-atlantic-salmon
(This PhD opportunity is co-financed by the European Regional Development Fund through the Interreg Channel VA Programme and is part of project SAMARCH (www.samarch.org))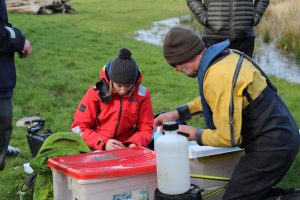 On Tuesday 6th February, Bournemouth University Research Associate Katie Thompson from the Department of Life and Environmental Sciences (SciTech) joined the SAMARCH (Salmonid Management round the Channel) team in search of sea trout in the river Frome. The five year EU Interreg Channel Programme funded project (2017-2022) will track juvenile salmon and juvenile and adult sea trout through four English and French estuaries to fill the gaps in our knowledge of how quickly fish migrate through intertidal habitat, their migration pathways and where adult sea trout spend time at sea. Currently, 95% of our salmon and sea trout die at sea, compared to only 75% in the 1970s. The project aims to answer the question of what proportion of this mortality occurs in estuaries and coastal waters compared to the open sea by using small acoustic and data storage tags. The project includes 10 partners from France and England who are a blend of research and regulatory organisations, and key stakeholders (Bournemouth University, Game and Wildlife Conservation Trust, University of Exeter, INRA Science & Impact, Environment Agency, Salmon and Trout Conservation, Agro Campus, Agence française pour la biodiversité, Normandie grands migrateurs, Obersvatoire des poissons migrateurs Bretagne).